The PPS28-225°C High Temperature Quartz Gauge is designed for sour service, high pressure, high temperature downhole environments. Constructed with the best technologies available these gauges are rated up to 30,000 psi and 225°C (437°F), and deliver precise accuracy and resolution to detect the smallest differences in the downhole conditions.
Applications

Pressure Build-up Tests
Pressure Gradients
Interference Tests
Injection Pressure Monitoring
Drill Stem Tests
Production Tests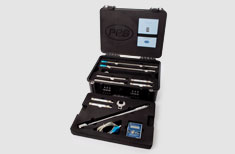 PPS28-225 weatherproof case
The SmartView software has a very user friendly interface, so operators with minimal experience can feel confident running the gauges and retrieving data. Also once the gauge is programmed with the desired sampling rates and durations, jobs can be run consecutively without needing to reprogram the gauge, saving time onsite.
Specifications
Sensor Type
Quartz
Pressure Ranges
16K | 20K | 25K | 30K
Pressure Accuracy
± 0.035% FS
Pressure Resolution
<0.01
Temperature Rating
225 °C (437 °F)
Temperature Accuracy
± 0.5 °C typically ± 0.2 °C
Temperature Resolution
<0.005

PPS28-225 °C Specifications (Rev. 00, 2016-09-27)

PPS28-225 Technical Sheet