The PPS28 NEO Quartz Memory Gauge is the latest innovation by PPS. This gauge provides a Smart battery, easy low maintenance handling and programming that can be managed through the PPS Surface Controller or an Android smartphone. The Smart battery has built-in capacity monitoring and is combined with a robust battery connection to ensure maximum shock and vibration resistance. On site the Surface Controller is a standalone device, which connects to a computer through USB or smartphone through Bluetooth. Users can then view gauge diagnostics, depassivate batteries and start or stop logging. PPS has also created an Android smartphone app that can be used to configure the gauge via Bluetooth for added convenience.
Applications

Pressure Build-up Tests
Pressure Gradients
Pre/During/Post Stimulation Evaluation
Interference Tests
Drill Stem Tests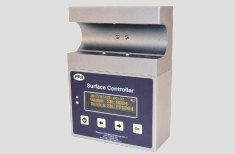 PPS28 NEO Surface Controller
The SmartView Mini app has a very user friendly interface, where a user can check diagnostics, depassivate batteries and download data.
Specifications
Sensor Type
Quartz
Pressure Ranges
10K | 16K | 20K | 25K
Pressure Accuracy
± 0.02% FS
Pressure Resolution
<0.01
Temperature Rating
150 (302 °F) | 177 (350 °F)
Temperature Accuracy
± 0.2 °C
Temperature Resolution
<0.005

PPS28-NEO °C Specifications (Rev. 01, 2017-09-22)

PPS28 NEO Technical Sheet