The PPS positive mud pulse MWD tool was developed by Pioneer Petrotech in order to address the needs of customers engaged in horizontal and directional drilling. It provides the following survey/directional measurements: inclination, azimuth, dip angle, high-side/magnetic tool face, earth gravity and magnetic field.
Drilling Mechanics Information

Rotational speed of the drillstring
Smoothness of that rotation
Severity of any vibration downhole
Downhole temperature
Torque and weight on bit, measured near the drill bit
Mud flow volume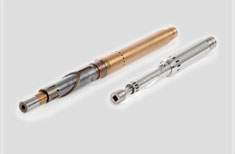 PulseLink Bottom End
PPS's unique down-hole coding and surface detection methods ensure the integrity of the real-time data from loss and disruption. A downhole vibration detection circuit provides real time data to the surface, visually displaying vibration levels for the operator, so they can change drilling parameters to protect the MWD tool.
Specifications
Tool OD
1.875"
Shock
1,000 g, 0.5 mSec, half-sine
Vibration
20 g RMS, 15-500 Hz
Pressure Rating
20,000 psi @ 150 °C (137,900 kPa @ 300 °F)
Temperature Rating
150 °C (302 °F) | 175 °C (347 °F) available upon request
Power Source
Lithium Battery
Operating Time
200+ hours; dependent on configuration
PulseLink Brochure
For more information please Email: sales@pioneerps.com
Survey/Directional Measurement Parameters
Tool Face Update Rate
9 seconds
Short Survey Time
Minimum 95 seconds
Long Survey Time
Minimum 120 seconds
Directional Measurements
Range
Sensor Accuracy
Resolution
Inclination
0 ˜ 180 °
± 0.1 °
0.04 °
Azimuth
0 ˜ 360 °
± 0.5 °
0.09 °
Tool Face
0 ˜ 360 °
± 1 °
0.70 °
TMF
0 ˜ 76 µT
° 0.003 µT
0.074 µT
GT
0 ˜ 1.100 g
± 0.003 g
0.001 g
Dip
-90 ° ˜ +90 °
0.3 °
0.1 °
Other Measurements
Range
Sensor Accuracy
Resolution
Gamma Ray
0 ˜ 300 API
± 5%
1.53 API
Pressure
0 ˜ 20,000 psi
± 0.05%FS psi
0.61 psi
Temperature
0 ˜ 175 °C
± 1 °C
0.59 °C
For more information please Email: sales@pioneerps.com