The PPS25XM Critical Memory Gauge features an advanced Piezo pressure transducer, high temperature electronics technology and welded housing in order to maximize the gauge's performance in hostile well conditions from high concentration CO2 or H2S, to high pressure and high temperature. Additionally there are reinforced metal to metal seals securing the parts which prevents leaks, creating long term stability and reliability even in corrosive environments.
Applications

Pressure Build-up Tests
Pressure Gradients
Pre/During/Post Stimulation Evaluation
Interference Tests
Fracturing Monitoring
Drill Stem Tests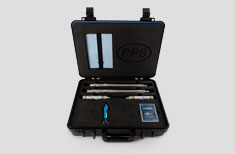 PPS25XM in weatherproof case
The SmartView software has a very user friendly interface, so operators with minimal experience can feel confident running the gauges and retrieving data. Also once the gauge is programmed with the desired sampling rates and durations, jobs can be run consecutively without needing to reprogram the gauge, saving time onsite.

PPS25XM Technical Sheet
Specifications
Sensor Type
SOI
Pressure Range
10K psi | 15K psi | 20K psi | 25K psi | 30K psi
Pressure Accuracy
± 0.03% FS
Pressure Resolution
0.0003% FS
Temperature Rating
150 °C (301 °F) | 177 °C (350 °F)
Temperature Accuracy
± 0.5 °C
Temperature Resolution
0.01 °C
PPS25XM Maintenance kit
Viton 90(20 O-rings, lubricant, tool for sensor protector)
Aflas (20 O-rings, lubricant, tool for sensor protector)
Chemraz (2 O-rings, lubricant, tool for sensor protector)
O-rings
Viton | Aflas | Chemraz
O-ring grease
177 °C
Weatherproof gauge case
Pelican 1400 for example
Software
SmartView
USB Interface cable
Battery tester with depassivation functions